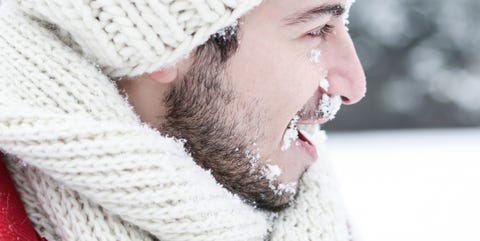 Robert Kneschke / EyeEmGetty Images
If you grew up living in a colder climate, scarves have always been more of a functional choice than a fashionable one. Winter hats and winter gloves are nice to have, but scarves play a crucial role in trapping your body heat and keeping the blood around your head and neck warm, which makes a world of difference in below-freezing temps. Menswear brands have done an excellent job of marrying function and style in today's scarves. Chunky knits, super soft merino wool, or classic cashmere all have their time and place, depending on the weather.
As part of your winter wardrobe refresh, we recommend retiring those itchy wool scarves your mom used to wrap around your neck and scoring a few of these cold weather-approved picks.
Mack Weldon Tech Cashmere Scarf
Cashmere may look good, but it's no match against harsh winter weather. This blend of cashmere, Merino wool, and nylon is strong, thermoregulating, and water-resistant, so we guarantee it'll hold up to your outdoor winter fun. 
Marino Avenue Mio Marino Premium Winter Scarf
This budget-friendly pick is soft, thick, and looks more expensive than it actually is, so you won't feel too bad when you inevitably leave it behind on public transit or at a bar. 
Barbour Mixed Tartan Wool Scarf
Barbour makes some of the best outdoor-proof winter gear for men, but it's the brand's scarves that truly complete any look. This 100% wool scarf patterned in classic tartan adds a splash of personality to any neutral winter coat. 
Club Room Men's Cable-Knit Colorblocked Stripe Scarf
This forest green color blocking scarf functions as a neutral color with cascading stripes of black, cream, and brown. The comfortable cable-knit material has the softness of a vintage handmade sweater reimagined in today's modern style. 
Banana Republic Ribbed Merino Scarf
bananarepublic.gap.com
$80.00
Light and breathable, yet warm when you need it, Merino wool is the unsung hero of winterwear. The ribbed-knit stitch creates a luxurious texture to this high-performance fabric that will elevate any outfit in your wardrobe.  
J. Crew English Merino Wool Scarf
J. Crew uses Merino wool sourced from the Abraham Moon & Sons mill to craft their scarves, which was first established in 1837 and is one of the last remaining vertical woolen mills in Great Britain. The English may have their shortcomings, but they sure know how to make a damn fine scarf. 
Mr. P Fringed Houndstooth Wool-Blend Scarf
Crafted in an Italian mill that uses specialist heritage techniques, this scarf is dripping in style. The complementary patterns and wispy fringe is fashion-forward without taking too many risks.   
Brooks Brothers Double-Faced Cashmere Scarf
brooksbrothers.com
$186.00
There's something about cold weather that makes the preppy style more palatable. This pure cashmere scarf woven in two colors adds a dash of preppy flair to your winter wardrobe. Bonus points if you wear over a cream-colored chunky knit sweater. 
Polo Ralph Lauren Pinstripe Cashmere-Wool Scarf
When cashmere and wool come together, good things happen. Take this scarf, which is woven in Italy from an ultrasoft blend of the two luxurious fabrics. Cashmere brings the class while wool brings the warmth—a match made in heaven. 
Patagonia Fjord Flannel Patchwork Scarf
This heavyweight, patchwork 100% organic cotton flannel scarf is a no-brainer for anyone who lives and works in below-freezing temps. Breathable, machine-washable cotton stays soft yet durable all season long. 
This content is created and maintained by a third party, and imported onto this page to help users provide their email addresses. You may be able to find more information about this and similar content at piano.io