The 4th annual Miss Guyana Teen Scholar pageant officially kicked off with a sashing ceremony of 12 delegates vying for the crown, title, and scholarship of Guyana's next teen scholar.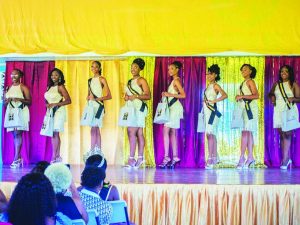 Robeina Edinboro, Mya Saunders, Akeelah Jones, Carissa Vandoimen, Jayda Overton, Curtela Lewis, Lisa Hassan, Beyonce Nicholson, Trasmattie Dasrath, Olivia Stephens, Ashanti Corlette and Chidima Nurse were officially sashed on Sunday, August 7th, and introduced for the first time to an audience of their friends, families, sponsors and fans.
The energy in the auditorium of the St. Joseph High School was electric as the delegates walked out on stage, introduced themselves, and gave Guyana a glimpse of what was next to come.
The ceremony featured the musical talent of Teija Edwards, national pannist and Teen Scholar 2021 awardee for Best Talent; an Indian medley dance by Rameisa Ganesh, winner of the 2019 Best Ballroom Dance award; a dance by the delegates; and remarks from the pageant's choreographers, Aliya Wong and Joshua Percival.
The delegates were sashed by reigning Queen Shequana Holder, Miss Guyana Teen Scholar 2021 and 3rd Queen of The Imperial House. Holder congratulated the potential queens, and wished them success on their journey.
The quarterfinalists will now be preparing for the preliminary competition of the pageant, a personality interview, talent and dance presentation; presentation on social issues, and an elocution competition which would determine who moves forward in the competition on pageant night.
The winner of the pageant would be awarded a scholarship that covers her expenses for any tertiary education programme in Guyana during her year of reign; she would also manage a community development fund for her outreach and voluntary projects, and would speak as a role model to encourage other girls to pursue their education and ambitions.
This year's Miss Guyana Teen Scholar pageant is coordinated by The Imperial House, in partnership with the Culture, Youth and Sport Ministry.
Read More Interesting Content