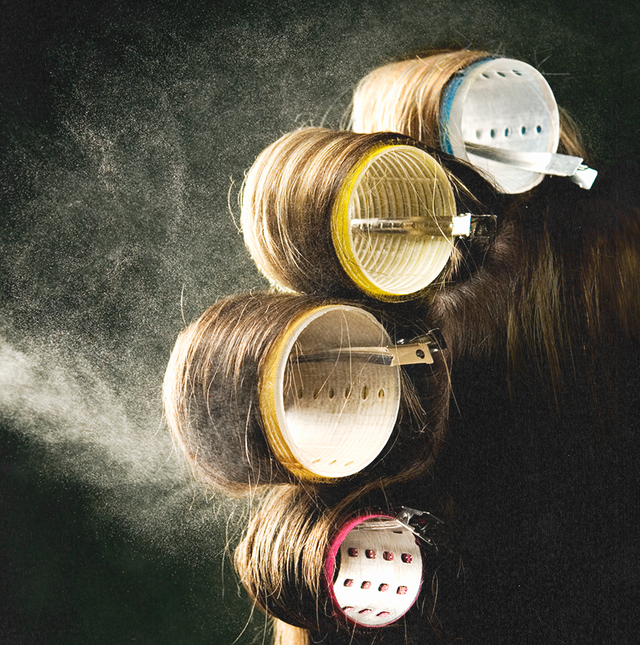 Getty
Let's be real—hairspray may be one of the most fundamental products in our beauty arsenals. Without hairspray, fancy updos would be no more, curling-iron curls would lose their shape, and breezy beach waves would fall flat. That all being said, let's face it—hairspray quite literally holds any hairstyle together, making it the ultimate must-have in your hair tool kit (in addition to, ya know, a quality hair brush and some good deep conditioner).
But let's address the elephant in the salon head-on (hehe): Hairspray has gotten a bad rep in the past. But before you swear it off for good, I'm here to tell ya that the hairsprays of yesteryear that were known for leaving hair crunchy, stiff, and just downright not cute are GONE. In fact, today's hairsprays not only give you a flexible hold, but also help fight humidity, amp up your volume, and add a natural-looking shine to your hair. And because ILY, I asked Donavin Maxwell, a NYC-based hairstylist at Fekkai Salon, about everything Hairspray 101.
In anticipation of the roundup and all of the coming knowledge, here's a little preview before we jump down the hairspray rabbit hole…
Our top picks for the best hairsprays in 2022:
Did I pique your interest? Cool, great. Ready to go on your hairspray shopping journey with the help of a trusty expert that'll point you in the right direction? We got you! Countless spritzes and reviews later, we've managed to round up the 15 best hairsprays for holding curls, setting updos, and keeping fine hairs in check. Pick one (or all—I'm not judgin') and try it for yourself. I promise you'll be a hairspray convert, too.
Advertisement – Continue Reading Below
Best Protective Hairspray
Ogx Argan Oil of Morocco Multi-Benefit Hairspray
Best drugstore hairspray
TRESemmé TRES Two Hair Spray
Best Moisturizing Hairspray
Moroccanoil Luminous Hairspray Strong Finish
Best Touchable Hairspray
Sexy Hair Healthy Sexy Hair So Touchable Hairspray
Best Flexible Hairspray
Living Proof Flex Hairspray
Best Fast Drying Hairspray
Kenra Perfect Medium Spray
Best Eco-Friendly Hairspray
Love Beauty and Planet Coconut Milk Hair Spray
Best Scented Hairspray
Ouai Texturizing Hair Spray
Best Lightweight Hairspray
Oribe Superfine Hair Spray
Best Crunch-Free Hairspray
IGK 1-800-HOLD ME No-Crunch Flexible Hold Hairspray
Best Color Protecting Hairspray
Color Wow Cult Favorite Firm + Flexible Hairspray
Best hairspray for shine
Amika Top Gloss Hair Shine Spray
Best Hairspray for Curls
SheaMoisture Coconut & Hibiscus Hold & Shine Moisture Mist
Best Hairspray For Most Hair Textures
Hair Rules Volumizing Hair Spray
Best Anti-Frizz Hairspray
Shu Uemura Moya Hold Hair Spray
Hairsprays "keep the hair in place while also working to help fight humidity that invites frizz," says hairstylist Donavin Maxwell. Hairspray is formulated using polymers that essentially work to provide structural support to the hair (think: like a hairnet). Hairspray can also be formulated to offer other benefits, such as texture, volume, shine, or moisture to the hair.
How do you apply hairspray?
"I like to have my clients flip their heads down and apply the hairspray," says Maxwell. This technique will increase volume and add some texture to the hair. To help with flyaways, Maxwell suggests spraying the product in your hands, and lightly passing over the areas where the frizz sticks up—this will smooth and set the hair.
How to find the best hairspray:
Consider your hair type
It's important to keep in mind what kind of hair you have in order to choose which hairspray will work best for you. Is it straight, curly, frizzy, flat, thin, fine, wavy, or so on? Hairsprays are specially formulated to work with specific hair types and combat a series of common hair problems (think: keeping frizzy hair at bay during humid days).
Choose the hold
Hairsprays are made using a blend of different types of polymers, allowing the formula to be either a light, medium, or maximum hold. If you're looking for something moveable that still provides a little bit of hold, go for a light or medium hairspray. If you don't want your hair to budge, a maximum hold hairspray is the way to go.
Donavin Maxwell is a hairstylist who has worked in the beauty and hair industry for 10 years. He performs cuts and colors at the Frederick Fekkai salon located inside the Mark Hotel in New York, NY.
Siena Gagliano is a contributing beauty editor at Cosmopolitan and has three years of experience writing about beauty, fashion, and lifestyle news. She's an expert at researching and writing beauty and hair stories, like the best texture sprays and the greatest purple shampoos on the market, and feels especially knowledgeable in hairsprays, because finding one that works on her fine, dense hair is a major job. She regularly tests and analyzes hairsprays on her own hair for efficacy, while working with the industry's top hairstylists and cosmetic chemists to assess new formulas and brands.
Lauren Balsamo is the deputy beauty director at Cosmopolitan with eight years of experience researching, writing, and editing skincare, hair, and makeup stories that range from the best hair detanglers to the greatest hair straightening brushes on the market. She chose her picks based on product reviews and personal testing.
Advertisement – Continue Reading Below