Almost 60,000 children and teens have had their first dose of a
coronavirus vaccine
in Australia.
Yesterday, 12,000 vaccine doses were given to 12- to 15-year-olds across the country, with the amount of jabs administered to that age group nearing five per cent first dose.
The age bracket became eligible for the Pfizer vaccine this week, though children with health conditions could have it sooner.
Just over 5000 in that age group are fully vaccinated.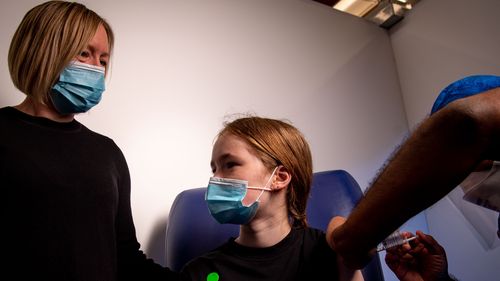 The ACT still has the most vaccinated population of any state or territory overall.
Government figures show it is sitting at 75.9 per cent first dose and 52.1 per cent fully vaccinated.
Not far behind is
NSW
, which continues to edge towards 80 per cent of people with one dose – though two are needed to end all restrictions.
It's just half a per cent away from that milestone, at 79.5 per cent single dose.
Despite being in lockdown,
Victoria
is further behind, with 41.4 per cent fully vaccinated and 67.6 having one dose.
However, the state is just 30,000 doses away from hitting the government's target of one million jabs in five weeks.
Overall in Australia, 68.5 per cent of adults have had one vaccination and 43.2 per cent have had both.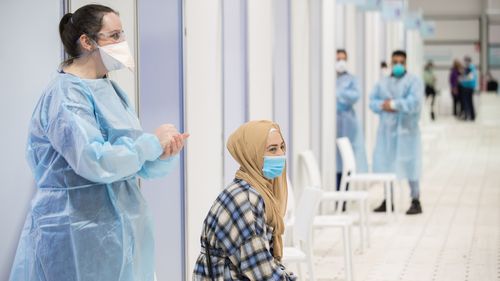 A total of more than 23 million vaccine doses have been given out.
There are around 20 million adults in the nation.
More than 276,000 jabs were delivered in the past day.
The nation's reopening plan hinges on
coronavirus
vaccination rates of 70 per cent, and then 80, in each state or territory.
GPs, pharmacies and state-run hubs are all doing vaccinations and you can book
here
.
The vaccine rollout will again be ramped up across the country with the introduction of workplace vaccinations to start.
The following numbers are for eligible adults, and the latest data is from September 14.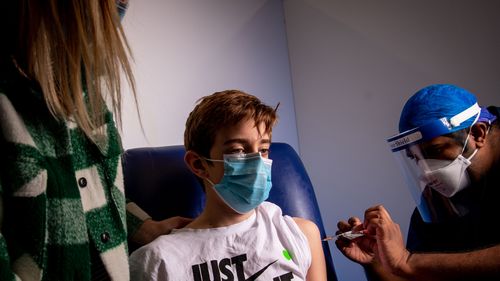 In NSW, 79.5 per cent NSW residents have had their first jab, and 47.5 per cent are fully vaccinated.
That's 8.3 million jabs in all.
With the gap between AstraZeneca shortened from 12 to as little as four weeks and three weeks left between Pfizer doses, that's expected in mid-October.
In
Victoria
, 67.6 per cent of residents have rolled up their sleeves once. A total of 41.4 per cent are fully vaccinated.
That's a total of 5.9 million jabs.
Residents are awaiting a lockdown exit plan to be announced.
The Sunshine State has given 57.1 per cent of people one dose, and 38.8 per cent have had both.
That equals just over 3.9 million doses.
A total of 59.9 per cent of South Australians have answered the call to get vaccinated – and 41.2 per cent have finished both doses.
That's over 1.4 million vaccinations.
Western Australia might be ultra-cautious on reopening, but 57.6 per cent have had their first jab now, and 38.8 per cent are fully vaccinated.
More than 2 million doses have been used.
Australian Capital Territory
The ACT has had 75.9 per cent of people have one dose, and 52.1 per cent with both.
A total of 442,000 vaccines have been given out.
In the NT, 60.6 per cent have had at least one dose, and 44.9 per cent are fully vaccinated. That's over 200,000 jabs in arms.
Tasmania has seen 67.5 per cent of people come forward for one dose, and 49.3 are fully jabbed.
They've administered just over half a million vaccines.