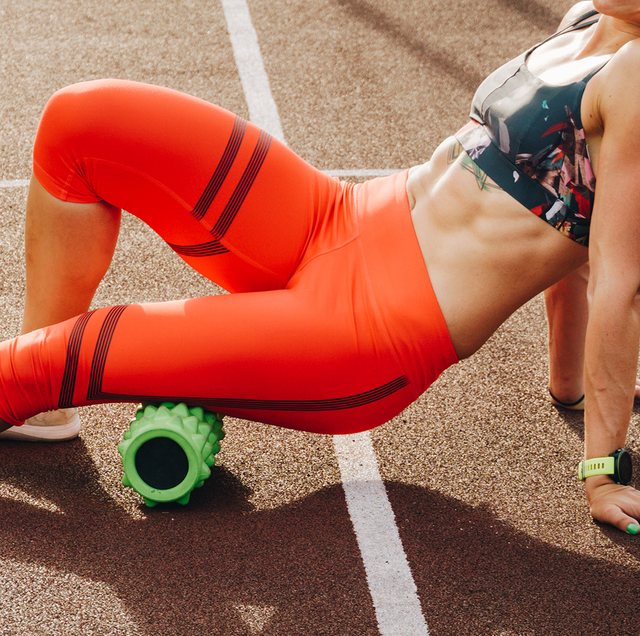 Getty Images
If you're like me, there's a high chance you have a love/hate relationship with working out. Let me guess: you push through with the help of a 2000s hits playlist and then pat yourself on the back no matter how bad the 30-minute YouTube workout kicked your ass, right? And I bet by the time you're done, all you want to do is shower off the sweat and return to your beloved couch. Trust me, I get it. But whether you're a gym rat or a wannabe-couch-potato, you really shouldn't be skipping out on those crucial post-workout stretches. (Or pre-workout stretches, for that matter!) A little stretching can be the difference between desperately reaching for two Tylenol the day after a workout and feeling like a gold medal athlete. Wanna get the best stretch ever? You gotta add a foam roller to your routine, my friends.
These cylindrical bbs can do serious wonders for the body through a form of myofascial release (a type of physical therapy used in massage to target pain), explains performance coach Keith Hodges (CPT), founder of Los Angeles-based Mind In Muscle Coaching. Foam rolling prior to training has "been proven to reduce trigger point sensitivity, improve blood circulation and range of motion when combined with mobility (active stretching) exercises," he explains. That means normal stretching combined with post-workout rolling can help ya recover faster—and there's nothing we love more than saving time.
You should also know that it's not just fitness fanatics and pro-athletes who can enjoy the benefits of foam rolling. If you spend most of your days tethered to a laptop and desk (it's me, hi) or are required to stand for hours on end at work, then you're likely all too familiar with that tense feeling that can creep up come 3 pm. "The entire population can benefit, especially those individuals who work jobs in which they will be sitting for long periods of time," says Hodges. "People who do manual labor can benefit from foam rolling as well. This can lead to an improvement in their work performance and decrease risk of injury on the job." Sold, baby, sold!
Basically, if you're not foam rolling already, it's about damn time to get your booty in gear. To help get you rolling (lol, sry), I rounded up some of the best foam rollers on the market and outlined what to look for when shopping. Take a quick peek here before we get into the nitty gritty details on each:
See anything you like? Just look down—you can thank me later when you're feeling limber AF.
Advertisement – Continue Reading Below
1
Best 2-in-1 Foam Roller
Lululemon Double Roller
2
Best Budget Friendly
Amazon Basics High-Density Round Foam Roller — 12 Inch
3
Best Natural Alternative
Scoria Natural Cork Massage Roller
4
Best Vibrating
Vulken Extra Long 17" Vibrating Foam Roller
5
Best For Beginners
Yes4All Medium Density Foam Roller
6
Best Travel Roller
The Original Worm 6.3 Muscle Roller
7
Best Bundle
BORNEW Foam Roller Set
8
What to look for when shopping for a foam roller
Density: Foam rollers come in various degrees of density. Hodges recommends newbies start with a less dense option, progressing to a higher density as tolerance builds. It can def be uncomfortable at first, so be sure to remain consistent, giving your body a chance to get used to the roller. Hodges also suggests speaking with a fitness professional to ensure you are using your foam roller properly. No broken backs here!
Fancy features: You don't have to go all out when buying a foam roller, but if you do want a lil somethin' extra there are several special features you might love. For example, you can find foam rollers that vibrate, have special storage, and are travel friendly.
Length: Foam rollers typically come in one of four standard sizes: 12", 18", 24", and 36". Longer foam rollers are great for targeting areas like your legs and upper back, whereas a smaller roller does wonders when needing to focus on a specific part of your body, like your forearm or calf.
Cost: You don't have to spend an arm and a leg just to work out your arms and legs. We found several foam rollers that will cost you sooo much less than that fancy gym membership you've been meaning to cancel.
Texture: Basic foam rollers are smooth, allowing even pressure to be applied as you roll. If you are looking for something a little more intense, consider a roller that has grooves and ridges. This texture will be able to get all up in your nooks 'n' crannies, putting pressure on your tension points. Prepare to say "ahhh!"
9
How we chose the best foam rollers
As you probably know, Cosmo's lifestyle team spends all day, every day scouring the internet, testing products, and reading reviews so we can bring you the type of high-quality content we'd want for ourselves (and our standards are preeeetty darn high, TBH).
It's also really important to us that each of our shopping articles adheres to the 15 Percent Pledge, and we try to make sure the products we feature are good for both you and our planet. If we wouldn't buy something for ourselves, we sure as heck won't recommend it to you—and we're always gonna keep it really, really real. Pinky swear.
Performance coach Keith Hodges (CPT), is the founder of Mind In Muscle Coaching in Los Angeles. He specializes in functional strength and conditioning, loaded movement training, hypertrophy, nutrition, corrective exercise, and pre/postnatal fitness. He has worked with athletes from all levels, including numerous NBA, NFL, MMA, and pro boxing athletes. Hodges has also worked with athletes competing in the Special Olympics, training them in advance of their respective competitions.
Advertisement – Continue Reading Below