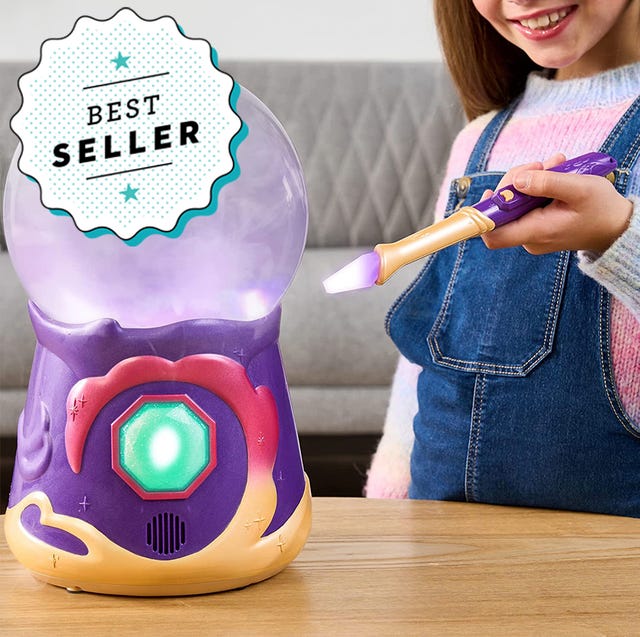 Amazon
WHEN IT comes to gifts for kids, there's something they'll never get enough of: toys! And with so many cool plushes, building toys, outdoor toys and creative sets for every age, it can be hard to figure out what to buy. Luckily, Amazon came out with its annual list of "Toys We Love," featuring some of the coolest new toy releases of 2022, and it's chock-full of good ideas for the holidays.
So, what toys seem to be hottest this year? As always, STEM sets seem to be ranking highly, covering everything from geology to circuitry and electricity. Board games are also popular, especially those casual games that can be played at parties or family gatherings with a mixed age group. Then there are those sets that let kids get their DIY on, personalizing their own fashions and accessories. And collectibles are still cool, whether they're in the form of mini plushes, surprise toys or objects from their favorite fandoms, like Star Wars or Marvel. When we looked at the list of these stood out as our favorites.
This is just a sampling, though. You can find the complete Toys We Love for 2022 list at amazon.com/toyswelove. And while we haven't had the opportunity to test every toy on the Amazon list, for toys that have been tested, we've including the feedback we received from our testers.
Advertisement – Continue Reading Below
Best Toy for Babies From Amazon's List
Kellytoy
Squishmallows 8″ Plush Mystery Box
Best Tub Toy
Green Toys
Submarine
Best Fine Motor Toy for Toddlers
Learning Resources
Spike The Fine Motor Hedgehog
Top-Rated Toy From Amazon's List
Fisher-Price
Harley-Davidson Tricycle
Toy With Hours of Fun
Mattel
​Karma's World Transforming Musical Star Stage Playset
Best Baby Doll From Amazon's List
Orijin Bees
Sweet Puffy Bee
hand2mind
Numberblocks 1-10 Activity Set
The Cutest Barbie Yet
Barbie
Cutie Reveal Snowflake Sparkle Series
Best STEM Toy for Preschoolers
Educational Insights
GeoSafari Jr. Talking Kids Microscope
For Star Wars Fans
Star Wars
Star Wars L0-LA59 (Lola) Droid Toy
Best Toy for Kids Who Love Cards
Hot Wheels
Criss Cross Crash Motorized Track Set
Trendiest Toy
Magic Mixies
Magical Misting Crystal Ball
Best Art Toy
Crayola
Ultimate Light Board Drawing Tablet
Best Building Toy
LEGO
The Madrigal House
Best Learning Toy From Amazon's List
Osmo
Genius Starter Kit
Best Active Game
Exploding Kittens
Throw Throw Avocado
Best DIY Toy
Cool Maker
Stitch 'N Style Fashion Studio
Cool Science Set
National Geographic
National Geographic
Best Outdoor Toy
Valor
Valor Kick Scooter
Best Party Game
What Do You Meme
All of Us: The Family Trivia Game for All Generations
Advertisement – Continue Reading Below