Australia's borders will reopen to double-vaccinated international visitors on February 21, Prime Minister
Scott Morrison
has announced.
Speaking at a press conference today, Mr Morrison said National Cabinet had decided it was time for the country to reopen to all remaining visa holders, due to declining COVID-19 cases and ICU admissions.
"We have been progressively opening our borders since November of last year," Mr Morrison said.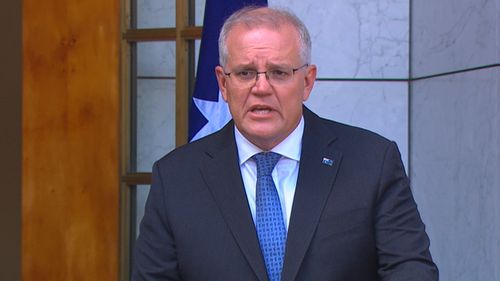 "Those programs have proceeded very successfully – whether it was the programs we had in place with New Zealand or Singapore, and then with Japan and South Korea, opening up to international students and backpackers and economic migrants who are coming to Australia, that will now be extended to international visitors who will be able to return."
Mr Morrison said international travellers would be welcomed back into the country, providing they were double-vaccinated against COVID-19.
"That's the rule," he said.
"Everyone is expected to abide by it and it's very important that people understand that requirement if they're seeking to come to Australia.
"If you're double-vaccinated, we look forward to welcoming you back to Australia and I know the tourism industry will be looking forward to that."
Mr Morrison said the high-profile deportation of unvaccinated tennis star Novak Djokovic "should have sent a very clear message to everyone around the world that is the requirement to enter into Australia".
Home Affairs Minister Karen Andrews said anyone not vaccinated who wants to come to Australia would have to apply for an exemption.
"They will have to provide proof that there is a medical reason that they cannot be vaccinated," she said.
Ms Andrews is tipping a tourism boom for the hammered sector, almost two years after Australia closed its international borders.
Since November, when border restrictions first began to loosen for travel from a small number of countries, 300,000 people have visited Australia.
But tourism operators have been crying out for international big-spenders.
In the year 2018-19, tourism generated more than $60 billion for the Australian economy.
State-based flight caps on international arrivals and quarantine arrangements are set to continue.
Mr Morrison said it was "up to state governments to alter those, as they see fit".