Kim Kardashian wouldn't have worn Marilyn Monroe's dress to the 2022 Met Gala if it weren't for her mom, Kris Jenner.
On the most recent episode of The Kardashians, titled "I Never Thought I'd See the Day" and obtained in advance by Newsweek, the Skims co-founder, 42, revealed the momager, 67, convinced Ripley's Believe It or Not to lend her daughter the iconic gown.
Monroe—who died at the age of 36 in 1962—famously wore the sheer, embellished ensemble while serenading President John F. Kennedy in May of that year.
Ripley's loaned the dress to Kardashian under strict guidelines. For instance, the gown couldn't be worn in a car, so she needed to change into it upon arrival at New York City's Metropolitan Museum of Art, the site of the gala.
Additionally the mom of four—who shares kids North, Saint, Chicago and Psalm with estranged husband Kanye West—was only able to wear the showstopper while walking up the Met Gala steps for her red carpet reveal. When she entered the building, she immediately had to change into a replica.
In total, the reality star wore the dress for about five minutes.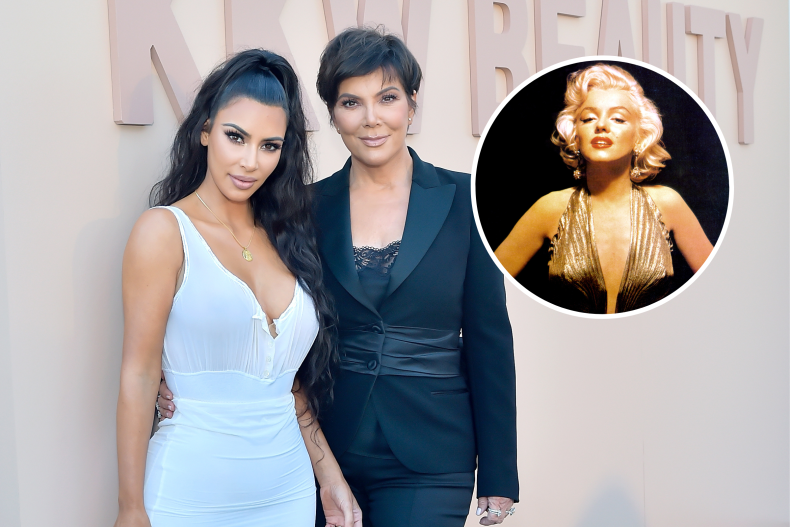 "I flew all the way to Florida to try on the Marilyn dress at Ripley's. They were not going to let me wear this dress," Kardashian explained during the episode. "They weren't even going to let me try it on until Kris Jenner calls."
In a separate confessional, a Kardashians producer asked Jenner: "What did you say to Ripley's 'cause they were like, flat-out 'no.'"
The businesswoman laughed before telling cameras she "cannot tell you my secrets," noting: "But if somebody says 'no,' you know what I say, you're talking to the wrong person."
Kardashian said she "would have done anything" to make her vision for the ball a reality.
"I was like, 'Please mom, if you make this happen, I'll marry you,'" she joked. "I was screaming at her on the phone going, 'I'll pay for it, I'll this, I'll fly to Florida, I'll do an appearance at Ripley's.'"
"And she's just like, 'Shut up, shut up,'" Kardashian said of her mother. "She kept muting them and going, 'Shut up.'"
Following the conversation, the California native said, "They've agreed for me to try on the dress," and added: "If it fits, I'm going to the Met. If it doesn't fit, I'm not going to the Met."
After she was able to slip into the dress, social media critics blasted the Kourtney and Kim Take New York alum for wearing the historic piece to the event.
Despite rumors damage was done to the garment, Kardashian insisted it was handled carefully. During an appearance on the Today show in June, one month after the Met Gala, she addressed the backlash.
"We keep seeing stuff like, 'The dress is ruined' … All of that is not true?" Today co-host Hoda Kotb asked Kardashian.
"No," Kardashian replied. "Ripley's [and I] worked together so well; there were handlers in gloves that put it on me."
"I respect [Monroe], I understand how much this dress means to American history. And with the theme [of the Met Gala] being American, I thought, 'What's more American than Marilyn Monroe singing 'Happy Birthday' to the president of the United States?'"
Previously, MJ Corey, a psychotherapist who runs the Kardashian Kolloquium site, told Newsweek why people were so bothered after seeing photos from that night.
"Americans—culture consumers in general—seem pretty invested in maintaining the myths of their favorite icons," she explained. "Kim's self-conscious alignment with Marilyn's importance really upset people."
The Met Gala is an annual fundraising gala for the Metropolitan Museum of Art's Costume Institute in New York City.
The Kardashians airs weekly on Thursdays on Hulu.