White House senior adviser Anita Dunn said Sunday that the term "MAGA Republican" may actually hurt the Republican Party after this year's midterm election results, adding that it could be an advantage to Democrats in the future.
This election cycle, Democrats achieved major gains in some states over the past week, while Trump-endorsed Republican candidates were left with losses that the GOP found disappointing as they were positioning themselves for a Senate majority. Currently, Democrats are officially maintaining and potentially growing their Senate control while it is still unclear which party will take House majority.
"When the president first started using the term 'MAGA Republican' back in May, you know a lot of pundits…thought it wouldn't work," Dunn said during an interview on NBC's Meet the Press. "But it was a very effective strategy for raising for the American people the hazards of going down that path."
She cited democracy denial, threats of political violence, and an "extremist program" of denying women the right to an abortion as potential hazards Democrats should highlight moving forward.
During an interview with CBS News in September, President Joe Biden outlined what he thought a MAGA Republican is.
"MAGA Republicans are the people who refuse to acknowledge that an election took place and there was a winner," the president said. "The MAGA Republicans are those people who, in fact, say that the use of violence is a legitimate tool, like what happened to the Capitol."
Political analyst Fernand Amandi told Newsweek on Sunday that Democrats should continue using the term. "Positively yes, for three election cycles Americans have had the chance to vote for the MAGA agenda, and unequivocally the agenda has failed. It would be dumb for Democrats not to use the term MAGA Republicans because it has been so successful."
Dunn also said on Sunday that Republicans need to figure out what their platform is and how to find a way to appeal to voters.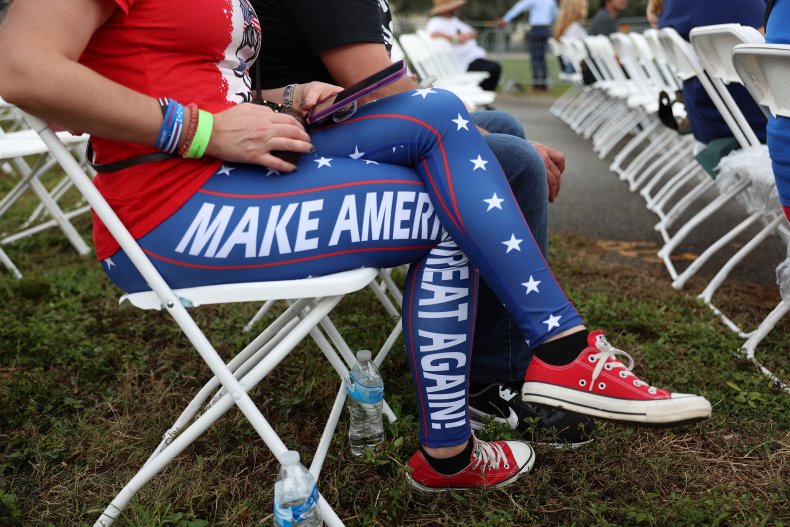 "The Republican Party has to come up with what they're actually for," she said. "It's very clear what President Biden and the Democratic Party are for. They are for working people, for middle-class people, for policies that change what's happened over the last 40 years in this country where the wealthy just got wealthier and the people at the top did well, and everybody else lost ground."
Many Trump-backed candidates, including a few election deniers, lost key races for the GOP this midterm cycle. In Nevada's secretary of state race, Democrat Cisco Aguilar beat his Republican challenger Jim Marchant. In the past, Marchant, who was endorsed by former President Donald Trump, made claims regarding voting machines and pushed for not allowing mail-in ballots.
"NO Mail-in ballots! We need to protect our election integrity! VOTE Jim Marchant in 2022 to FIGHT voter fraud!" Marchant tweeted in May.
Since the midterms, Trump has made multiple claims that the election was "tainted" and even called for a "new election."
Speaking on Truth Social about Arizona's election, the ex-president said: "So in Maricopa County they're at it again. Voting Machines in large numbers didn't work, but only in Republican districts. People were forced to wait for hours, then got exhausted or had other things to do and left the voting lines by the thousands."
Maricopa County reassured voters that ballots will be counted, tweeting on Saturday that people's "vote will count equally whether it is reported first, last, or somewhere in between."
Arizona's gubernatorial race between Trump-backed Republican Kari Lake versus Democrat Katie Hobbs is still being called. With 88 percent of votes counted, Hobbs leads lake with over 34,000 votes. Lake has tweeted multiple times since Election Day that she believes she will be the winner.
"Every ballot has eyes on it. GOP Ballots (Election Day) ballots start dropping tonight," she tweeted Friday. "Keep your Champagne cold, our votes are about to start."
Many self-identified MAGA Republicans have also been critical of state's midterm election counts. Representative Marjorie Taylor Greene of Georgia said on Twitter on Thursday that she's sure "our enemies are quaking in their boots while we are still over here trying to count ballots."
Meanwhile, Representative Jim Jordan of Ohio said, "Election results should be known on election night."
Newsweek has reached out to Trump for comment.