Russians are starting to build bomb shelters in their own homes as concerns about the potential use of nuclear weapons by President Vladimir Putin grow, according to local media reports.
The demand for personal bomb shelters is growing, according to Russian news outlet 66.RU, which cited construction companies that specialize in building bunkers in homes.
Cromwell, a construction company based in the Russian city of Yekaterinburg, said it saw a rise in requests notably after Putin announced a partial mobilization order on September 21.
A spokesman for the company said that it builds underground, semi-buried or surface bunkers which are usually designed for one or two people. He said they typically take about three months to make.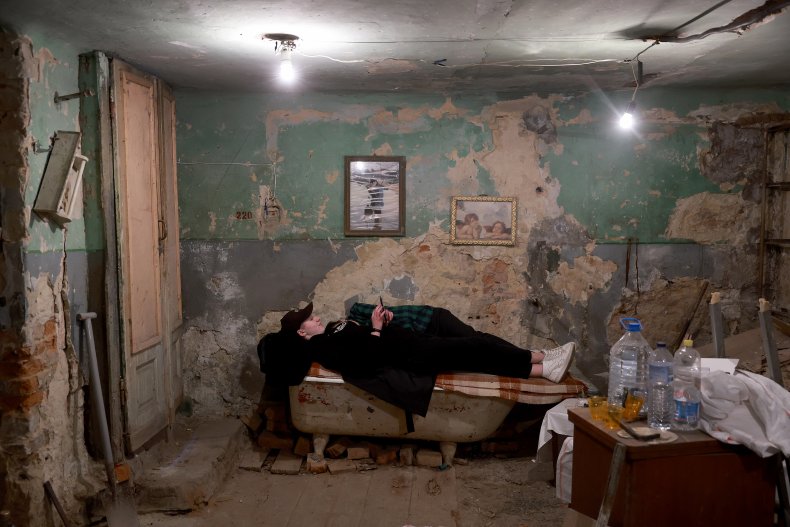 The company uses lead, graphite, titanium, asbestos, composite plastics, oak, beech, larch and other materials to build these bunkers, it said, noting that they provide protection from seismic waves from earthquakes, abnormal heat, nuclear explosions and radiation.
The price depends on the size, and how well-equipped the shelters are—costs range from one million ($16,300) to ten million ($163,000) rubles. Bunker features can include ventilation and air filtration systems, communications systems, and secret doors, the company said.
A deputy of the city council of Novosibirsk, Svetlana Kaverzina, built a bomb shelter in the basement of her house, according to Russian outlet Sib.fm. She said she would store about 15 liters of water in her bunker and use it "in case of emergency."
Another local news outlet reported last month that a notable demand for bunkers is growing in Russia's Kursk and Belgorod regions. Meanwhile, multiple reports are emerging of spaces being re-purposed into bomb shelters in Moscow and elsewhere.
The Telegram channel "Caution, Moscow" reported that Muscovites living in the north of the city are having their basements transformed into bomb shelters, citing a local resident as saying that mattresses and folding beds are being moved into the basements of homes.
Sevastopol Governor Mikhail Razvozhayev said Sunday on his Telegram channel that local authorities intend to equip the entrances of multi-story buildings with signage giving instructions on quick access to bomb shelters.
He said they could be in the basements of houses and that he had already inspected the cellars of residential buildings along multiple streets.
Baza, a Russian Telegram channel with close links to local police, also reported that shelters are being set up in hospitals and clinics in Moscow.
The news comes amid growing fears about a nuclear war. U.S.President Joe Biden has asserted that Putin is "not joking" about threats to escalate the Russia-Ukraine war by using nuclear weapons.
"He is not joking when he talks about potential use of tactical nuclear weapons or biological and chemical weapons, because his military is, you might say, significantly underperforming," Biden said during a Democratic Senatorial Campaign Committee fundraiser in New York City on October 6. "I don't think there's any such thing as the ability to easily use tactical nuclear weapons and not end up with armageddon."
Putin has doubled down on claims that Ukraine was preparing to detonate a so-called dirty bomb. The U.S. warned that Russia could be attempting to create a pretext for its own attack.
Natia Seskuria, a Russia expert and associate fellow at the London-based Royal United Services Institute, told Newsweek that recent developments inside Russia may indicate that Putin may be preparing the Russian population for further escalation.
She assessed that the placement of signs directing citizens to bomb shelters may well be a propaganda effort to "increase the sense of fear among the population and scale up support for Russia's war in Ukraine that has been fading away as a result of mobilization."
"Additionally, this aligns with the Kremlin's recent claims that Ukraine may use a dirty bomb and it looks like Russia itself may be planning a false-flag operation," Seskuria said.
Newsweek reached out to Russia's foreign ministry for comment.