Dramatic video from waterlogged eastern Kentucky shows a person being rescued by a helicopter off a roof peeking above floodwaters.
The only parts of houses that could be seen in the video, posted to Facebook by the Wolfe County Search and Rescue Team, were the tops of roofs.
The post said a Wolfe County swift water crew broke through the window of one of the houses to get to a family trapped inside. The crew got the family to the roof, where a helicopter crew hoisted them to safety. The video shows an 83-year-old woman being rescued.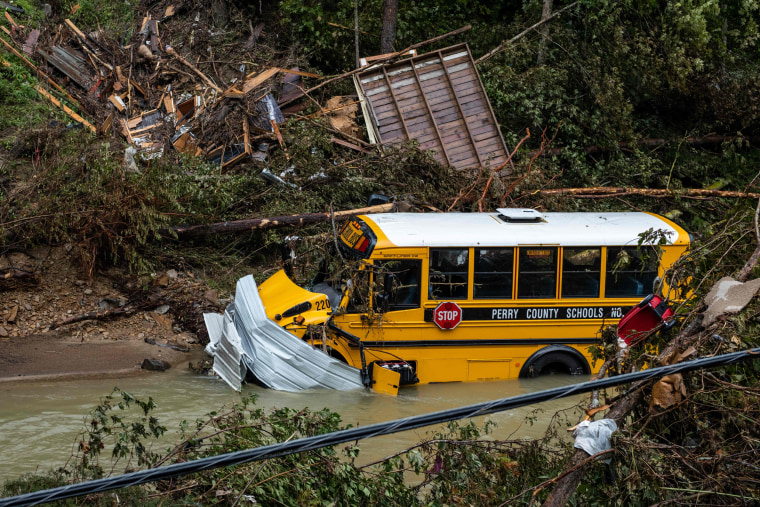 The National Guard has conducted more than 1,000 rescues through air lifts in eastern Kentucky following the devastating flooding, Gov. Andy Beshear said Sunday.
The governor announced Monday that at least 35 people had died. He's repeatedly said that the death toll is expected to rise, as dozens remain unaccounted for.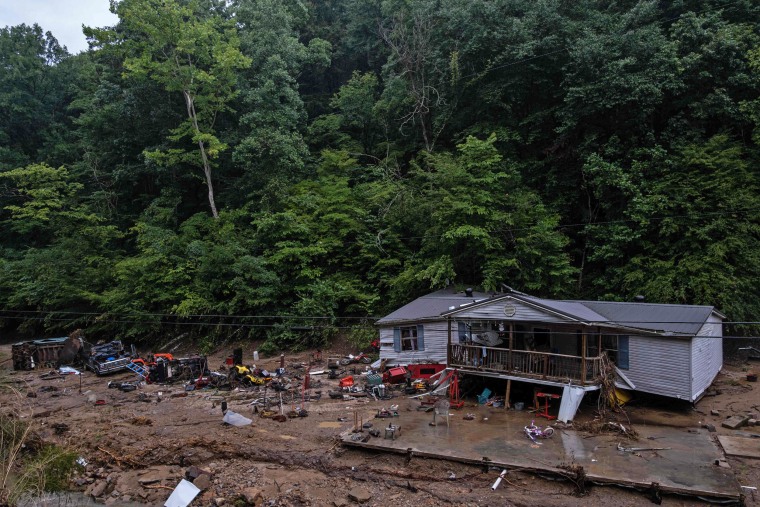 Beshear, who toured some of the hardest-hit areas Sunday, said the floods were "certainly the deadliest and the most devastating of my lifetime."
"I mean, houses swept away for miles. They don't know where some parts of people's houses are," Beshear said.
The governor said crews were still in search and rescue mode, hoping to find those who may be unaccounted for because they are trapped or because they don't have cellphone service.
More than 12,000 people in the state remain without power, down from double that, he said.
The governor also said he and his wife were canceling a planned trip to Israel this week.
"I cannot be overseas while the people of eastern Kentucky are suffering and while the region will still be in a critical stage over the coming weeks. I promised the people yesterday that I would be there for them — today, tomorrow and in the coming weeks — and I am going to keep that promise," Beshear said.
More flash flooding was possible in portions of Appalachia on Monday as the latest storms roll through, the National Weather Service said. Rainfall rates of 1 to 2 inches per hour were possible in some of the same areas that were inundated last week.
"If things weren't hard enough on the people of this region, they're getting rain right now," Beshear said Monday. "There is severe storm potential today in all of the impacted areas, and that is just not right."
Over the last seven days, eastern Kentucky saw 5 to 10 inches of rain, which is 600% of the average rainfall for this time of year.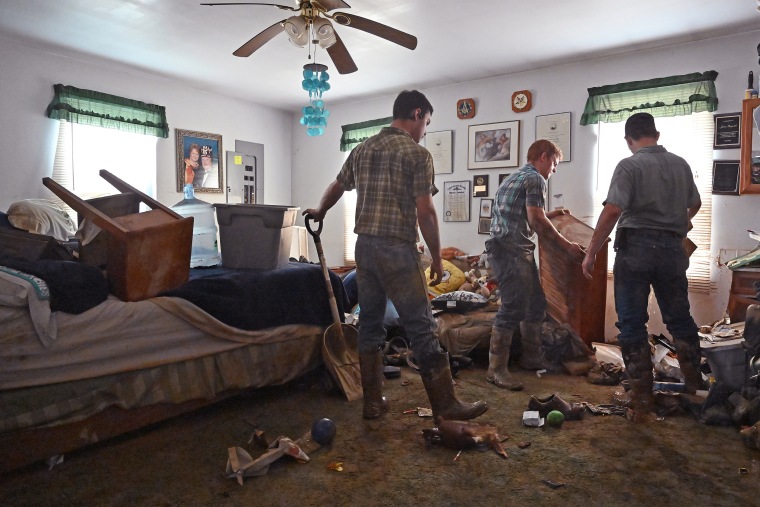 The record-breaking flooding in Kentucky was considered a 1-in-1,000-year flood event, meaning there was a 0.1% chance of it happening in a given year.
Due to climate change, precipitation events are becoming heavier and happening more frequently, especially east of the Mississippi River.
A dozen shelters were open for flood victims in Kentucky with 388 occupants Sunday, according to the Federal Emergency Management Agency.
FEMA announced Friday that President Joe Biden issued a major disaster declaration, making federal assistance available to the state.
On Saturday, Biden said he added individual assistance to that declaration with the aim of further helping displaced families.
Kathryn Prociv contributed.